In the name of Allah ST
Salamon alykom wa rahmatollah.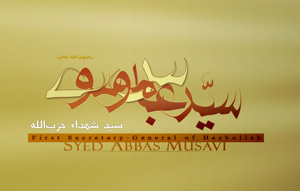 In this post I release another walpaper of Moghawemah serie about first secretary genral of Hezbollah Shahid Syed Abbas Musavi that you saw Shahd Imad Mughniyeh RW wallpape and also Syed Hassan Nasrallah HZ wallpaper from this serie. Dual monitor wallpaper with jpg format and very higher resolution much more than fullHD quality but in the aspect ratio 16/10 for 2 serie monitor of 1440x900 pixels desktop reselution.
Is very good accommodated for Microsoft windows Vista wallpaper and also you can use it for windows seven.
Enjoy it and say a Salawat Alan Nabi Muhammed SW and present it to the soul of Shahid Syed Abbas Musawi RZ.



another wallpaper of this serie is shown below for viewer who havent seen them yet: