In the name of Allah ST

Salamon alykom wa rahmatollah.

Allah subhanau wa ta`la sid in holy Quran :
" إِنَّمَا وَلِیكُمُ اللَّهُ وَرَسُولُهُ وَالَّذِینَ آمَنُوا الَّذِینَ یقِیمُونَ الصَّلَاةَ وَیؤْتُونَ الزَّكَاةَ وَهُمْ رَاكِعُونَ - المائدة 55
Only Allah is your Vali and His Messenger and those who believe, those who keep up prayers and pay the poor-rate while they bow. "
As a Muslim this is very important to know our Imam in our life and in age that we are as u heard this narrative of Rasullah Muhammadenel Mustafa salallahu alayhi waa`leh wa salam :
من مات و من لم یعرف امام زمانه مات میتـهً جاهلیه
it mean if anybody die and he still doesn't know his Imam Zaman so it seam he died in Jaheliyeh ( the time before Islam that people lives wild like animal in Arabia )
So this is our duty to be accurate about knowing and supporting our Imam Zaman as perform all his orders especially the most important order of Imam Zaman is Welayate Faghih as u heard this narrative from him :
واما الحوادث الواقعة فارجعوا فیها الى رواة حدیثنا، فانهم حجتی علیکم وانا حجة الله علیهم
for its references see this page
For this post of Islamic wallpaper I designed a wallpaper of Imam Khamenei hafazahollah with one of his newest picture that i have took it from one of my friend is about when he was in Khuzistan -Ahwaz city.
See it and pleasure.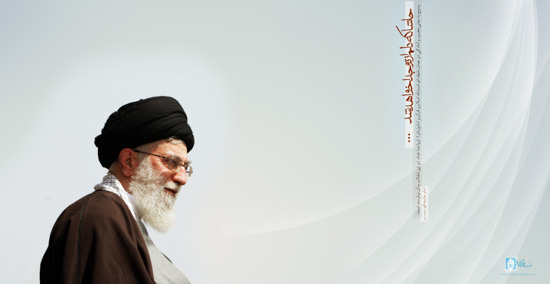 be succeed
Download and say Salawat alan Nabi Muhammad Saw
Labbayk Ya hussain as
Allah keep us over sins inshallah.