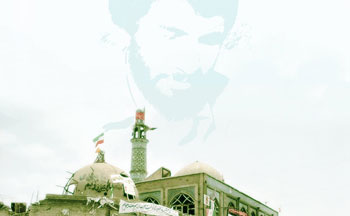 Salamon Alykom Wa Rahmatollah
Today is the freedom anniversary of Khorramshahr that occupied at beginning days of imposed war from Iraq to Iran so i designed a poster about that to say the blood of martyrs who sacrificed their lifes for Islam and Islamic revolution and shia ideology is alive and is in circle in our veins forever until we r alive, especially i want to mention of the commander of Khorramshahr IRGC, Mohamad Jahan Ara who was a very pious and devote commander and his life was a perfect Islamic lifestyle that can be a good sample for youth if they want to get close to Allah s.t just like what he did until the level which he melt into the Allah s.t and what is closer than that when u become Allah s.t and there is nothing just him and if we want to go through the way to getting close to Allah s.t the first step is immaculate intention that the best deed will not accepted without that .
Inshallah we be of those on whom will have this honor to become martyr and they join to Imam Hussein pbuh in the hereafter in martyrdom party.
wasalamo alykom
download and say salawat alan Nabi Muhammad sw.
with best regards
Labbayk Ya hussain as
Allah keep us over sins inshallah.